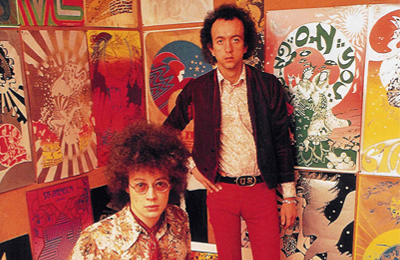 Michael English Art Biography
Early Career
As a child, Michael English developed a love for drawing especially when it comes to technical topics like trains and airplanes. These are things that would remain part of his artistic inspiration due to his fascination with these things continuing well into adulthood. This is something that can be seen during his "Machine Paintings" era during the late 1970s and the 1980s. He began pursuing his love by getting into Ealing College of Art in 1962. His life changed when he took Groundcourse by Roy Ascott. His career quickly launched after this moment in 1966, where he was huge into the hippie movement that was currently blooming at this time. This was when he began working in the graphic arts world. After finding a great deal of success in this field, he ended up becoming known as the man who created the "English form of psychedelic poster arts".
During his early part in his career, he established Hapshash and the Colour Coat in 1967 along with his business partner. These works created during his time with this company were poster artworks that had such a huge influence on the youth counter-culture during this time period. Not only did he do work for some publications, but he also worked with such music legends as Pink Floyd and Jimi Hendrix. He created their English produced posters for these acts, as well as others. Michael English was also responsible for creating posters for Love Me Film Productions and the 1968 Liverpool Love Festival.
Psychedelic Rock Posters
This artist got inspiration from a wide variety of different things. A lot of his techniques were very similar to the Pop Art and Op Art techniques of the time. Opt Art is a type of art that is very visually jarring for anyone viewing those works and is very similar the bold and carnival-like visuals that you get from viewing Pop Art. English's works were also heavily inspired by the Art Nouveau in the 1890s. He also drew in inspiration from Disney animation, William Blake, Hinduism symbolism, and many other inspirations from across many very different cultures.
Michael English art proves that he is a master of psychedelic arts, which is exactly why his original art posters are great additions to your collection.
Hyper Realism Posters
However, after the 1970s, he moved a bit away from this psychedelic art that he had become known for in favor of using airbrushing techniques in the realm of Hyper Realist art work. You can purchase his psychedelic rock posters online here. His works are just stunning to look at and add the right personality at any space. There are quite a few different popular pieces that come from this time period of Hyper Realism, including the works from The Food Paintings. Take a look at his Coke features. "Coke" by Michael English is such a gorgeous piece that definitely shows his incredible talents in this Pop Art style. You can also see this exemplified in "Dripping Bottle of Coke". His airbrushing techniques are spot on and you can really tell that this artist has some incredible talents. During this time period, he also created "Fried Egg and Ketchup", which is another incredibly popular piece during this time. After that series, he moved onto the Strikes Water Prints, which includes the incredible poster "Ball". This poster has such jarring visuals that you cannot help but to stare at it while admiring English's work. This is a perfect poster to make a big statement in any room. After their release, these incredible pieces earned him millions of dollars.
Later Works
After this time period in his work, Michael English kept evolving as the times moved forward. As punk rock became the prevalent music culture in London, England, concrete decadence became a favored style for this artist. He quickly moved from this to experimenting in the realm of environmentalist happenings along with oil lamp projections. His art continued to evolve and in the latter part of the 1970s and the 1980s. Here he displayed an interesting contrast of themes for his works. He went back to his true love of trains and airplanes and focused on the Machine Paintings, which heavily focused on these machines and more. During this time, he also focused on the Nature Images. These paintings offered an up close and personal look of nature related images, including things like ivy leaves that are typically juxtaposed with items that are man-made. Both of these themes are some that he carried with him to the end of his very successful career.
Michael English has had such an illustrious career. During his hugely successful career, he had created a great deal of fantastic artworks but he also created a variety of other pieces. He had been commissioned to create paintings for both public organizations and private individuals. He did advertising art for big companies like Porsche. Michael English also created a stamp series for Royal Mail, including the "British Motorcycles" and "British Buses" series.
Michael English may have passed away in 2009, but his incredible works live on. He will be remembered for generations to come for his unique styles of art as well as his incredible talents. He was an inspiration that was successful for so long because he had the incredible ability to evolve with the times. This is so important because people want art that speaks to them. This is why appealing to the different cultures of the eras are so important. When you see works like "V8" and "SR" are incredible posters that are really exactly what you need to make your décor stand out. They are great conversational pieces that have a lot of visual interest for viewers. His airbrushing techniques were truly unlike any others at the time, which is why he is still a preferred artist today for those looking for new pieces. He was truly a master of the poster art and had skills that did inspire generations after him. He may not have intended to revolutionize the industry, but that was exactly what he did.
Display 15 Products per page