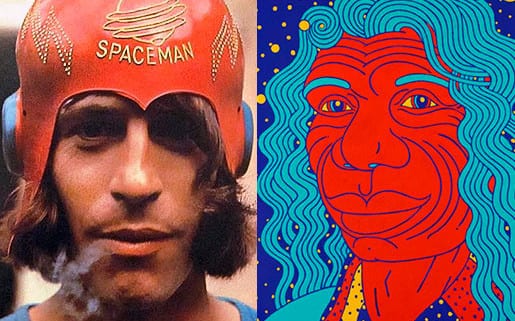 Born in Sydney, Australia, in 1944, Martin Sharp began his artist career in 1960. He studied at the Cranbrook Private School und Justin O'Brien and at the National Art School in East Sydney. He has since then been renowned for his work as an artist, cartoonist, film-maker and songwriter. He has become an icon for pop art in Australia and his contributions and support for up-and-coming artists have made him a member of the Order of Australia.
Sharp has collaborated with known artists such as Hapshash & The Coloured Coat, Rick Griffin, Stanley Mouse and Milton Glaser. He is especially known for his psychedelic music posters of Dylan, Jimi Hendrix, Donovan, and many more (Mister Tambourine Man). These posters have crowned him the king of the UK poster scene and allowed him to us his illustrations, covers and cartoons to be features of Oz magazine in both London and Australia.
At the Clune in Sydney in 1965 Sharp opened his first one-man exhibit called "Art for Mart's Sake." In 1966 Sharp published his cartoons in the book Martin Sharp Cartoons. He had a knack for turning classical artist into something new as he did with "Love Give Love" in 1967. In 1969, Sharp held his second exhibit at the Sigi Krauss Gallery entitled, "Sharp Martin and his Silver Scissors." His work with Oz later made him internationally renowned following a move to London in 1972. In London, he created "Art Book" with 36 color collages bringing together the work of Van Gogh on Van Gogh, Van Gogh on Botticelli, or Vermeer on Vermeer, which are some of his greatest inspirations.
Display 15 Products per page