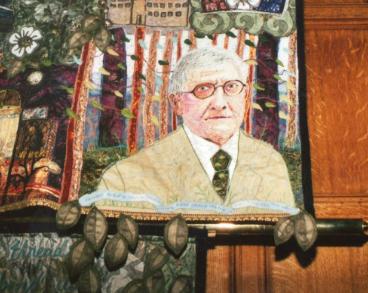 Born in Bradford, England on July 9, 1937, David Hockney is one of the most influential contributors British artists of the 20th century. Hockney has a condition known as Synthesthesia, where one can see colors when hearing different tones. He draws from his condition an underlying tone in his work, but it is never directly reflected.
David Hockney studied both at Bradford College of Art and Royal College of Art in London. He was featured in an exhibit call the Young Contemporaries while at the Royal College, it is said that this where and when British Pop Art started.
Using strong graphic colors incorporated from his favorite artists, he created portraits for friends, prints and is also known for his stage designs. He later from moved from England to California, and at the the same time switched from oil to acrylic paint. He also created  "joiners" using lithography. To depict moment, he arranged Polaroid prints in a grid. This method evolved into use of computer programs. In 1985 he used the program Quantel Paintbox which enabled him to sketch directly on the computer screen. Even today, David makes use of an iPad as in instrument for his art alongside creating portraits using oil and canvas.
Display 15 Products per page